We recently redesigned a WordPress Shop on an E-commerce website for our client Your Face Aesthetics (www.yourfaceaesthetics.co.uk). Their previous website design was visually appealing but required a whole new WordPress shop design and structure layout in order to maintain optimum customer experience levels and achieve online sales goals. Below we have listed a number of advantages that can be implemented into your own WordPress Shop to help improve customer engagement and sales.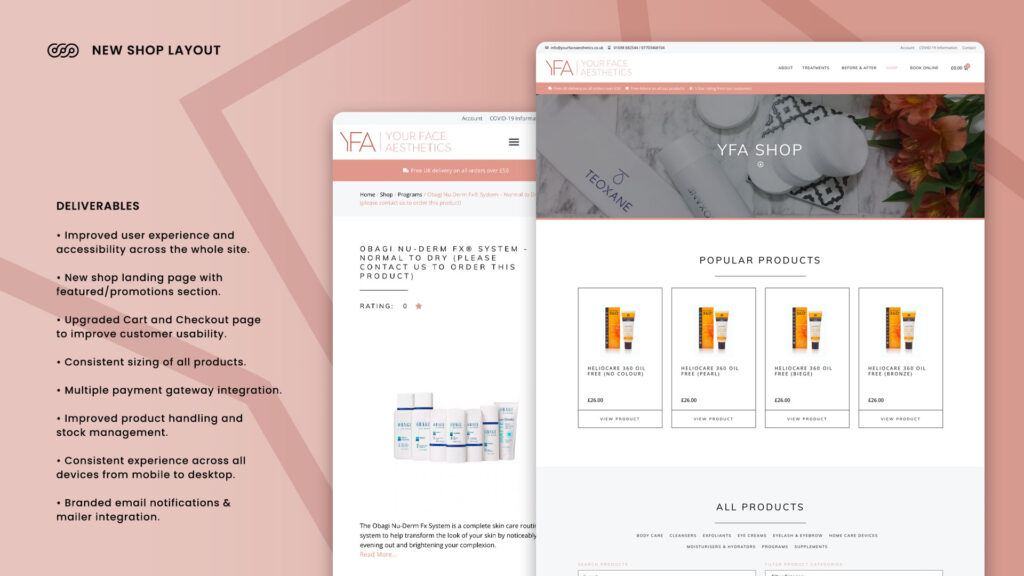 Efficient User Experience
Designing user-centric web apps can greatly boost your ROI, as per research on user experience. User experience is crucial for sales and trust, but what exactly is user experience?
A great user experience in our industry means a website that effortlessly fulfils all consumer needs. Adding a search or filter system can satisfy customer needs and drastically cut browsing time while product searching.
Product Visibility
It is imperitive that your products are displayed clearly and supplied with detailed descriptions. Your text content around your products are what search engines pick up on and rank in order of uniqueness and relevance to your website content. Our in house team have extensive experience in writing SEO friendly content to keep your products and services ranking as high as possible whilst utilising accessible friendly language and tone to keep your customers informed and engaged. On top of this we can provide you with templated adobe files so you can easily update your own promotional images and special offers meaning you don't have to rely on 3rd party assistance everytime you want to change an offer.
Optimised Cart and Checkout
Optimising your cart and checkout page is a sure fire way to reduce customer drop-offs and abandoned carts. Market research shows that removing hidden charges and adding more payment and delivery options can boost customer perception. This can encourage repeat business. When designing cart and checkout pages, our team prioritises readability and error-free form filling. This ensures clear communication of information. Should you wish to evaluate your own website for accessibility and SEO rankings please get in touch here.
Performance Testing
Like everything digital there is a fine balance between visually appealing design layouts and the performance of your website. Our team are highly experienced in creating effective web solutions that retain a very high standard of presentation whilst still performing way above current performance standards. A website on mobile should load pages in 2 seconds or less, as a general rule of thumb. It's time to optimise your pages and content if your site is falling behind the curve. However, don't worry we can help you get started right now! Simply drop your website URL into our free performance test and a member of our team will be in touch to discuss your performance results.
Not selling online yet?
The internet is a very powerful selling platform. Every single day millions of users are searching to find specific products and services local to their location. Studies show that online sales are still increasing year on year. Now, people see it as the most convenient way to present and sell products to the masses. WordPress Shop websites also offer a range of ways to market your products through 3rd party advertisement platforms and pay-per-click Google Ads. You can integrate these into your existing CRM to manage stock control and mail campaigns. Many of our current clients mostly benefit from our in-house design team, who create visually engaging promotional graphics. These graphics have proven to return great results across social media and shop landing pages. Interested in selling your products online but not sure where to start? Talk to us today and we will arrange a chat.